Actually, it was just another day at a local park on one of the many bays in our area.  My parents used to bring my brothers and I here when we were young.  It got hit hard by Hurricane Ivan, but the community rebuilt it even better than before!  Above you see ds4 enjoying lunch in the gazebo.
I can honestly say I've never seen ducks here before lol.  These were part of a group that hung out with us all day!  They even followed us into the water (at a distance of course.)
This park offers something for everyone...here is ds1 fishing off the end of the rebuilt pier.  He caught a few fish and a nasty sunburn.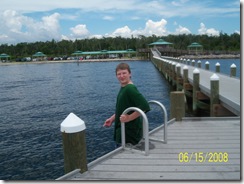 Not to be outdone, ds2 found an old hook with a bit of line still attached on the end of the pier.  He tied it to a stick...and yup, caught a fish!
  Here are ds3 and ds4 frolicking in the water.  One of the reasons we prefer to swim in the bays (we've always called these waters the "sound") is that the kiddos can run in and out and not worry about the waves of the Gulf.
Of course, you can't have a day at the beach without catching a sea creature or two lol.  It was a wonderful family fun day.  Hopefully we will be able to hit the "real beach" on the Gulf soon.  Now go out and have your own "fun in the sun!"